Editing & Proofreading Example

Your editor will make changes to your text to improve your language and leave comments with personalized feedback as well as writing tips that will help you with your next paper or document.
1

Document Revision

Your editor will apply MS Word's Track Changes function so that you can see the corrections that were made to your writing. They will also suggest additional improvements in marginal comments.

Have a look at our editing example below. You can also download the full file here.
The editor has proofread this sentence and fixed errors in verb tense, punctuation, and agreement in number. All of our proofreading services include correction of grammar, punctuation, spelling, and punctuation errors.

Learn more about

Proofreading

and

Language Rules

This text has been edited for vocabulary and phrasing. Colloquial or non-academic terms and phrases have been changed to more academic and/or natural ones. All of our editing services include revision of vocabulary terms and other style issues.

Learn more about

Proofreading and Editing

This sentence has been slightly reworded to make it more readable. Wordvice editor may also rephrase or restructure sentences as needed for flow, readability, and natural expression. Wordvice editors do NOT change the meaning of your work and will leave messages explaining extensive revisions. Learn more about

Paraphrasing

Comments and feedback from your editor are a main feature of Wordvice's editing and proofreading services. Editors explain grammar rules, ask clarifying questions, and provide suggestions for improving your writing.
Wordvice Editor

I therefore omitted this content to improve the accuracy and the flow of this sentence.

Wordvice Editor

Please note that abbreviations need to be spelled out when they are first introduced (and then consistently used throughout the text).

Wordvice Editor

The reference seems to be missing here – please check.

Wordvice Editor

In US English, your preferred style, double quotes are used as primary quotation marks. I adapted where necessary.

4

Wordvice Editor

Please note that, since "et al." means "and others" in English and refers to the coauthors of this publication, the verb needs to be in plural to reflect that author "Napoles" did not write this by themselves. I made a number of similar corrections throughout the text.
2

Editor Comments

In the margins of the document, editors will leave constructive feedback and an Overall Comment explaining the main/recurring issues they encountered while editing your document. These comments can help authors understand some of the revisions applied and improve their writing in future work.
Thank you for using Wordvice!
I edited your essay to correct English language, grammar, punctuation, and phrasing. I have also checked the text for word choices, clarity, and conciseness, and made some changes to ensure consistency throughout the paper.
Specifically, I did find a few issues with transition terms, especially at the beginning of paragraphs. Transitions are important in creating flow between ideas in an essay. Please confirm that the transitions I have used are suitable to you.
Consider asking for me by name with your next project.
Best of luck,
Alex P.
3

Direct Editor Communication

Communicate with your editor in real-time to ask them questions or give detailed instructions. You can also upload additional files that will assist the editor in editing your document.
Author

You commented about the abstract and the conclusion section. Do you mean they should be identical? Should I copy the abstract conclusion and put it at the end?

Editor

Dear Author, The information in the conclusion part of the abstract and in the conclusion section of your paper should be the same to ensure consistency between all sections. However, these two parts should not be identical in content.
4

Free Editing Certificate

In addition to the manuscript itself, many academic journals require a certificate of language editing to be submitted for publication. Every Wordvice academic editing order includes a free signed English editing certificate to demonstrate to your target journal editor that your paper's writing is free of errors. Simply download your editing certificate from the associated order number in your My Account page.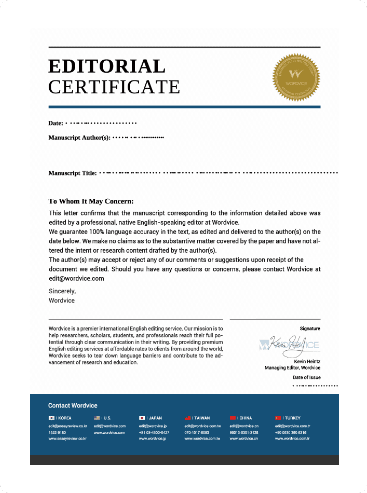 Frequently Asked Questions