About Us
We are a global leader in language proofreading and editing.
Welcome to Wordvice!
Wordvice is a global leader in language editing and proofreading of academic and admissions documents. Since 2013, we have edited over 327 million words and completed over 309,000 editing orders, serving more than 570 universities, medical centers, and research institutions and supporting hundreds of SCI journal contributions. The superior quality of our editing is evidenced by our high customer loyalty--more than 82% of our existing clients have ordered our service at least three times, and more than a third of our new customers are referrals.
We are committed to serving the scientific community and enhancing the academic publications industry. Order today and experience the Wordvice difference.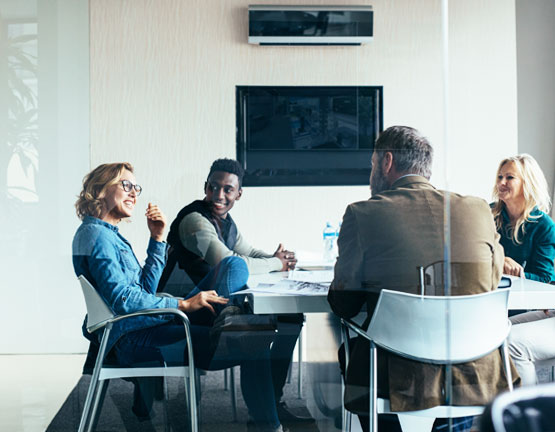 327,840,227
Total Words Edited
309,439
Total Documents Edited
578
Institutions Supported
89
(%)
Client Reorder Rate
We support thousands of clients from around the world in their research, academic, and business endeavors by providing…

High-quality editing and proofreading

Competitive pricing and timely delivery

Direct messaging with your editor

Our mission is to assist scholars, researchers, students, writers, and businesses around the world by editing and proofreading their academic and professional writing. We help academic authors prepare their manuscripts for publication and submission, students revise their essays for college and university programs, and professionals enhance their business and corporate documents.
When you entrust us with your documents, we focus on improving the style, sentence structure, clarity, and coherence of your writing to ensure that your message is expressed in the clearest and most compelling manner possible. Our ordering process and customer assistance are available 24/7/365, providing you with thorough editing and fast delivery through a variety of affordable and customizable services.
Wordvice currently operates in six countries: the United States (wordvice.com), Turkey (wordvice.com.tr) China (wordvice.cn), Taiwan (wordvice.com.tw), Japan (wordvice.jp), and South Korea (essayreview.co.kr). We have service agreements with many universities, academic societies, medical centers, research institutions, and laboratories. Additionally, our partners receive discounts on services, customized user interfaces for their institutional users, a centralized billing system, a designated account manager, a convenient messaging system, and ongoing journal support.
About Our Team
Wordvice is continually growing, and we are proud to announce that our team now includes over 500 freelance editors with advanced graduate and professional degrees and 50 academic translators with an average of 8 years of professional experience. Our editors and translators have expertise in academic fields in the humanities, social sciences, art, medicine, chemistry, physical and biological sciences, computer science, and engineering. We carefully screen all editors and translators through a rigorous recruitment and application process, and our quality assurance team regularly conducts stringent reviews of our editors' performance.
Each editing and translation order we receive is assigned to a regional project manager, a subject-expert editor or translator, and a quality assurance specialist. Because we handle our clients' work with the greatest care and always aim for perfection, Wordvice boasts a 99.8% client satisfaction rating. Additionally, delays in delivery of our services are extremely rare, with missed deadlines occurring in less than 0.1% of all orders. Visit our Academic and Admissions services pages to learn more about our most popular editing and proofreading services.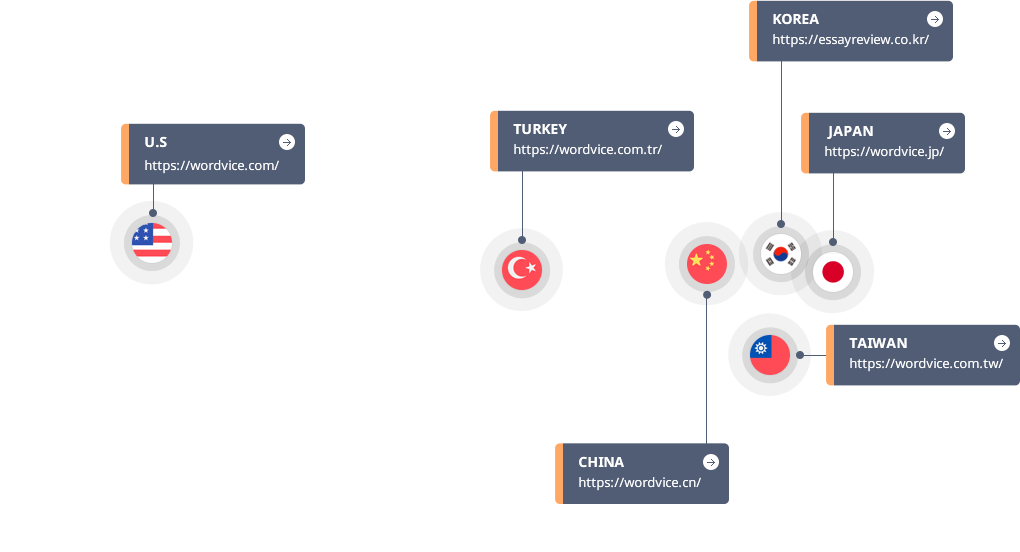 Wordvice operates in countries around the world:
the United States, Turkey, China, Taiwan, Japan, and South Korea.
Our language editing services can be ordered anytime, anywhere.
Office Locations
U.S. Office
1819 21st St., Des Moines, Iowa
EMAIL edit@wordvice.com
U.K. Office
The Aske Stables, Aske, Richmond, North Yorkshire, U.K..
EMAIL edit@wordvice.com
South Korea Office
10F, 205, Teheran-ro, Gangnam-gu, Seoul, Republic of Korea
EMAIL edit@essayreview.co.kr
Japan Office
2850, ShuBLDG, 2-28-10, Ebisu, Shibuya-ku, Tokyo, 150-0013, Japan
EMAIL edit@wordvice.jp
China Office
01-102, 1F, Building 25, Hanhe Garden, Haidian District, Beijing, China
EMAIL edit@wordvice.cn