Script
Editing Services
Your script or screenplay has stand-out characters, an excellent premise, and a story that will captivate your audience. But before you can get your work seen on the big screen or small stage, you need to craft a polished, professionally formatted script. Our script editing services will help get your artistic work over the finish line and receive the green light.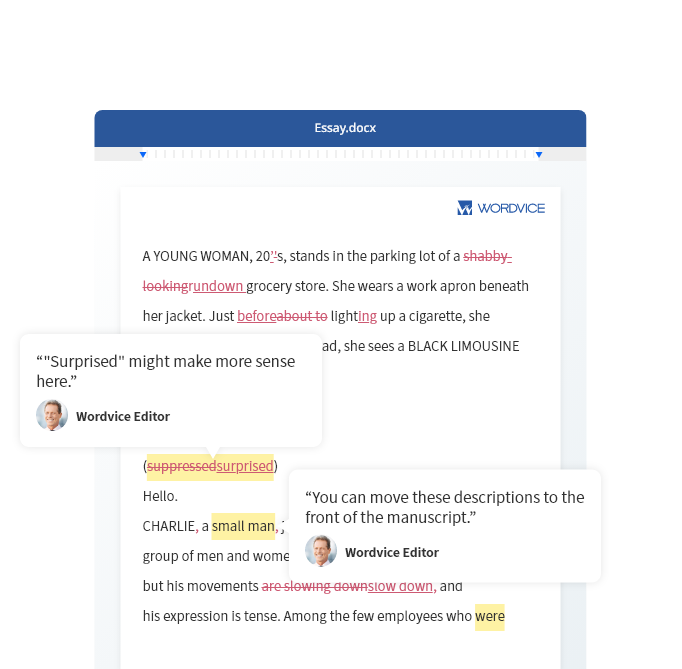 The Script Editing Process
Upload Your Script or Screenplay

Submit your script in the form of an MS Word doc. Include any needed instructions for the editor in terms of style, formatting, or other issues.

Our Script Editors Revise Your Work

Wordvice editors hail from diverse writing and publication backgrounds. Interact with your editor during the editing process with our internal messaging system.

Download Your Completed Script

Script editors enhance flow and readability of your script or screenplay. We promise zero objective errors remaining in your edited work.
Calculate Your Price
Choose your editing service type.

Enter your document's word count.

To calculate the total word count in an MS Word document, select [Word Count] in the [Review] menu.

To calculate the word count of a specific selection of the document, highlight the text and then click [Word Count].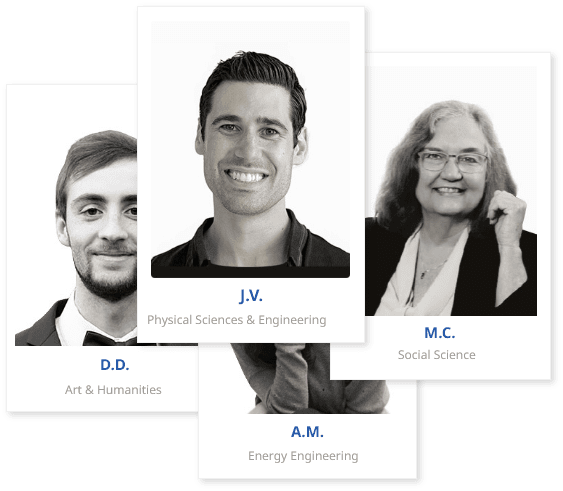 Our Expert Script Editors
Wordvice editors have revised hundreds of manuscripts and treatments for plays, films, and other performance projects. Whether you are submitting a screenplay to a big studio or looking to polish your script before independent filming, our script editing services ensure that your work will be more readable and accessible to audiences.
Features of Our Script Editing Services
Script Proofreading & Copy-editing

Script proofreading includes:

Correction of typographical and punctuation errors
Fixing grammar and syntax errors (considering artistic license)
Reducing word count (up to 10% of total text)

Our proofreading services ensure that your script or screenplay will be completely free of objective errors.

English Language Editing

We apply stylistic revision by:

Improving vocabulary and enhancing word choice
Slight rephrasing for more natural expressions
Retaining the meaning and tone of your work

We edit your script or screenplay in a way that polishes the content and flow of your work without impacting your tone, voice, or meaning.

Excellent Client Service

Writers return again and again to Wordvice because our script editing services offer more than just text revision. Authors also receive:

Direct contact with their editor throughout the editing process
A range of turnaround times (9 hours to 7 days)
15% discount on longer orders (30,000 words or more)

Contact your editor while they are revising your script to ask any questions or give further instructions.
Authors Love Our Script Editing Services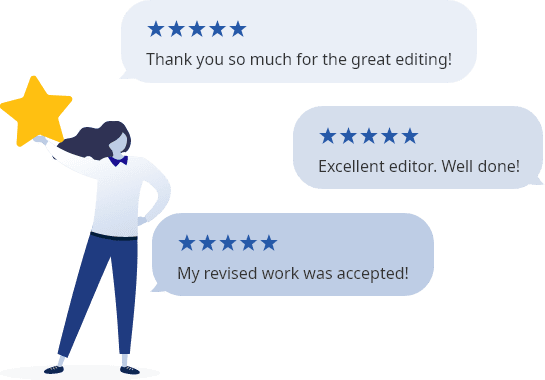 Wordvice Script Editing Services Reviews
Julia Carlton

"Script very well edited" This is my first script and I have been sitting on it for a long time, because the thought of putting it into an envelope and letting a publisher look at it makes me doubt myself and my skills so much. But I'm grateful for the great feedback I got from my Wordvice editor. The recommendations on how to improve the flow and the storyline were really helpful for this piece, and they also made me think about my writing style going forward.

Yola Davis

"Manuscript is prepared for submission" I finished drafting my first book manuscript a few months ago and received some content editing from a couple of peers online. But I needed final proofreading before turning it into publishers. I used Wordvice book editing service to fix the final errors in my draft, but the editor also improved some of the actual content as well and gave me some useful comments. My book seems much better than before.
Script Editing Services Samples
See samples of scripts revised by our professional editors.

Script Editing Services FAQ