Book
Editing Services
Whether it's for a novel, a nonfiction essay, or a biography or autobiography, authors need to ensure their book's manuscript is readable and free of language errors. Our book editing services correct your writing for flow, readability, and natural expression so that you can convey to your readers what is most important.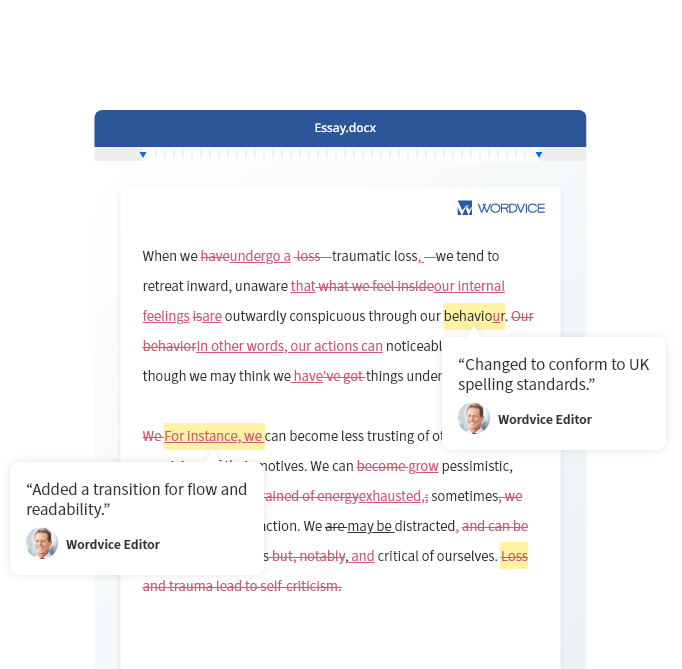 Our Book Editing Process
Upload Your Book Manuscript

Submit the text of your book as an MS Word doc. You may include instructions for the editor regarding tone, style, or other issues. 15% discount on orders of 30,000 words or more.

Book-Editing Experts Revise Your Text

Our professional copy-editors come from a diverse academic and publication background. Real-time interaction with your editor via our internal messaging system.

Download Your Revised Content

Book editors enhance the readability, tone, and flow of your writing. We guarantee complete accuracy in language editing.
Calculate Your Price
Choose your editing service type.

Enter your document's word count.

To calculate the total word count in an MS Word document, select [Word Count] in the [Review] menu.

To calculate the word count of a specific selection of the document, highlight the text and then click [Word Count].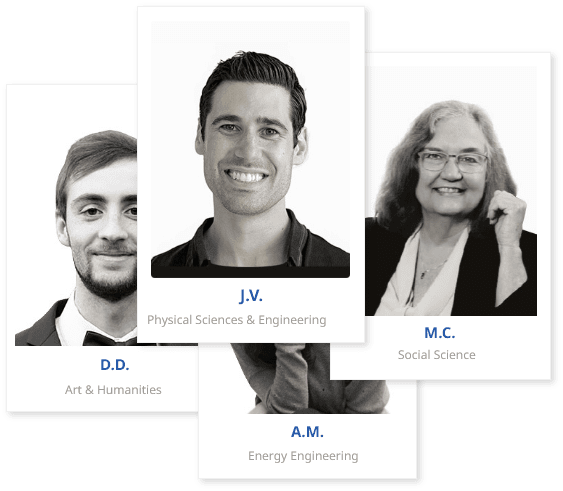 Our Professional Book Editors
Wordvice editors have edited thousands of pages of manuscripts for personal essays, novels, ghost-writing projects, and other fiction and nonfiction books. Whether you are submitting a manuscript to a big publisher or self-publishing a massive novel, our language editing services ensure that your finished product will be more readable and free of errors. Make a huge impact on readers with English editing services from Wordvice's professional book editors.
Book Editing Services Features
Book Proofreading & Copy-editing

Book proofreading entails:

Correction of typos, grammar issues, and punctuation errors
Application of preferred English style(US/UK) and formatting guide
Reduction of word count (up to 10%)

Our proofreading guarantees that your book manuscript will be 100% free of objective errors.

Comprehensive Language Editing

We enhance your book's content stylistically by:

Enhancing terms and correcting word choice mistakes
Creating more natural phrasing where needed
Maintaining your work's voice, tone, and meaning

Our top priority is to edit your book in a way that makes it clearer and more compelling to your readers without altering your original narrative voice.

Dedicated Author Services

Our customers keep coming back because our book editing services offer more than just editing. Authors also receive:

Direct messaging with the editor during revision
Direct communication with your editor
15% discount on large orders (over 30,000 words)

Stay in touch with your editor while they are revising your book. The contents of your book are strictly confidential.
What Authors Are Saying About Our Book Editing Services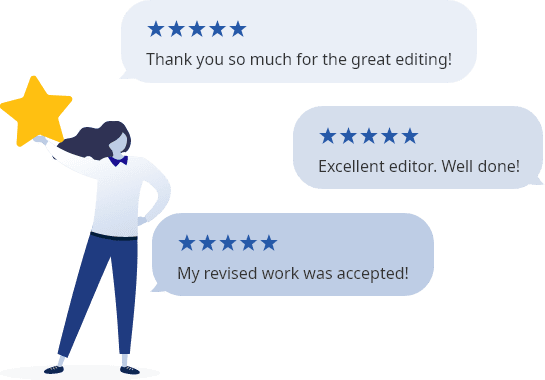 Wordvice Book Editing Services Reviews
Yola Davis

"Manuscript is prepared for submission" I finished drafting my first book manuscript a few months ago and received some content editing from a couple of peers online. But I needed final proofreading before turning it into publishers. I used Wordvice book editing service to fix the final errors in my draft, but the editor also improved some of the actual content as well and gave me some useful comments. My book seems much better than before.

Samuel Mbeki

"Satisfied with book editing" My book editor took care of all of the annoying details about punctuation and grammar errors, which really gave me peace of mind before I publish my work. They also offered some very interesting feedback on my choice of language, made me rethink parts of my story, and overall gave me really good insight into how my future readers might look at my work.
Book Editing Services Examples
Click below for samples of book content enhanced by our language editors.

Book Editing Services FAQ
Our editors are all native English speakers and hold advanced degrees (PhDs and Master's degrees), and they all have many years of experience handling manuscripts, personal essays, scripts, books, and other documents for writers and authors.
When you upload your manuscript, our order management system automatically selects the most suitable editor who has exactly the experience and expertise you need. If you have any questions or additional instructions, you can communicate directly with your editor throughout the editing process. And before you receive your text, our Quality Assurance Team will conduct a final review of the edited document. You can also rate your
professional editor
and receive additional points to use on our editing services in the future.
Our
editing and proofreading prices
depend on the length of your manuscript (i.e., the number of words) and on the turnaround time you choose when you submit your document to us. You can receive an instant quote if you enter your word count into our pricing calculator on our Pricing page. We also offer discounts on large documents (over 30,000 words).
We guarantee that all documents you submit to Wordvice will be kept private and confidential and will never be shared with third parties without your written consent. Our editors also sign non-disclosure agreements and will delete your manuscript from their computer within 14 days of completing their revisions and sending it back to you.